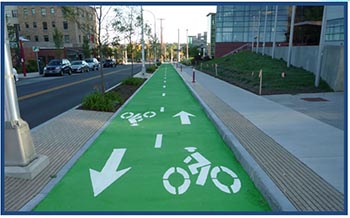 Many of you have met Maxwell Alum Eric Ennis (MPA '14), either through the MPA Colloquium or via participating in his 2015 Maxwell Syracuse Challenge.  Despite these notable achievements, Eric is also working on more innovative programming in his current role as the City of Syracuse's Community Development Block Grant (CDBG) coordinator, including his role as the 40 Below Transit Task Force.
This Sunday, September 7, the task force will host the first Cycle Syracuse Event, including group bicycle rides throughout Syracuse, a food truck rally near Armory Square, a scavenger hunt, walking tours, and green infrastructure tours.
For more information on the Cycle Syracuse Event, you can read "Wheels Hit the Pavement for First Cycle Syracuse Bicycle Fest" or visit the Cycle Syracuse Event website.